MyBB Feature Tour
From administration to posting a reply, MyBB is full of useful and to-the-point features for both you and your visitors. Take a look at the tour below to explore some of its best capabilities.
User Promotions
Automatically promote users based on their post count, reputation or registration date
Also available in MyBB is a user promotions system whereby a user can be promoted to a new primary user group or a new additional user group when they reach a specific combination based on the number of posts they've made, the reputation they've received or the registration date.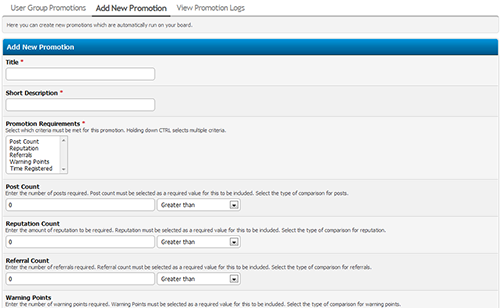 User promotions cover one of the most popular requests we receive, for forum administrators to give special privileges to members after they've been registered for a few months.
As a forum administrator, you can define as many different group promotions based on different criteria, and MyBB will automatically, via the task system promote users based on the rules on a regular basis.