MyBB Feature Tour
From administration to posting a reply, MyBB is full of useful and to-the-point features for both you and your visitors. Take a look at the tour below to explore some of its best capabilities.
Reputation
MyBB's reputation system lets users rate other users based on their actions and posts. All ratings are tallied to give every user a total reputation, which can be displayed in their profiles and posts. To help limit abuse, all reputation comments are public, displayed in a simple reputation report along with the comment and value of the rating.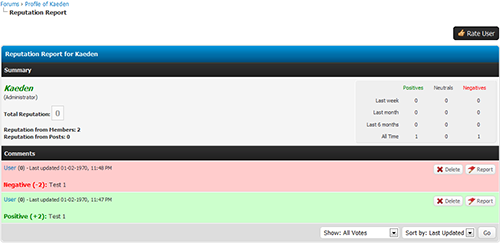 Rate users multiple times
Ever since it was introduced, MyBB's reputation system has offered the ability to give individual a negative, neutral, or positive rating, as well as leave a comment to explain the rating. But these ratings could only be given once. Since MyBB 1.6, it is possible to rate a single user multiple times, leaving a number of comments on their reputation report. It is also possible to remove the ability to add positive, neutral, or negative reputation points.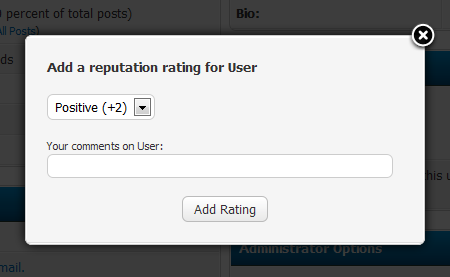 Rate posts, too
MyBB 1.6 introduced the ability to rate not just users, but individual posts as well. Every post can be given a rating (negative, neutral, or positive) to be left on the users' reputation report, allowing users to show they approve - or disapprove - of another's posts. For post ratings, leaving a comment is optional.